Brentford's in-form forward Bryan Mbeumo was on the scoresheet for Cameroon as the Indomitable Lions beat Burundi 3-0 to reach the 2023 Africa Cup of Nations (Afcon) in Ivory Coast.
Manchester United goalkeeper Andre Onana marked his return to the Cameroon team after nine months out with some important saves in Garoua.
Cameroon finished top of Group C to qualify alongside Namibia, completing the line-up of 24 teams for the tournament.
Mbeumo and Onana play starring roles
After a nervy first half, Mbeumo struck for the hosts straight after the break with his fifth goal of the season for club and country.
Christopher Wooh added a second with captain Vincent Aboubakar completing the scoring in added time.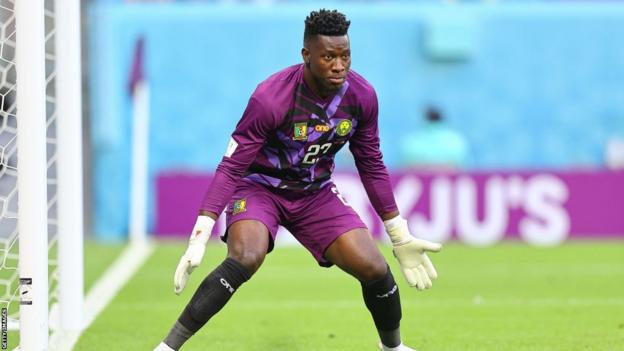 Onana was back in goal, having been suspended by his country's federation midway through the 2022 World Cup in Qatar.
His recall by coach Rigobert Song paid off as the 27-year-old, who signed for Manchester United from Inter Milan in July, played his part in the victory.
If Onana and Mbeumo are picked in Cameroon's Nations Cup squad, they will be amongst a host of Premier League players who will miss a number of games for their clubs.
Who has qualified for Afcon 2023?
A win for Burundi would have seen the Swallows qualify at Cameroon's expense, in what would have been a major upset.
However, defeat left the away team on four points in Group C, one adrift of Namibia who claim second place behind Cameroon to book their fourth Afcon appearance.
It means the 24-team Africa Cup of Nations line-up is now complete, with the finals taking place in Ivory Coast from 13 January to 11 February next year.
Teams for Afcon 2023: Algeria, Angola, Burkina Faso, Cameroon, Cape Verde, DR Congo, Egypt, Equatorial Guinea, The Gambia, Ghana, Guinea, Guinea-Bissau, Ivory Coast, Mali, Mauritania, Mozambique, Morocco, Namibia, Nigeria, Senegal, South Africa, Tanzania, Tunisia, Zambia.