American teenager Coco Gauff reached her first US Open singles final by beating Karolina Muchova in a semi-final disrupted by climate protesters.
Gauff could not convert a match point when serving at 5-4, but broke Muchova to seal victory after winning a 40-shot rally to create the sixth opportunity.
She will face second seed Aryna Sabalenka in Saturday's final.
Australian Open champion Sabalenka, who will become the new world number one after the tournament, dug deep to beat Madison Keys 0-6 7-6 (7-1) 7-6 (10-5) and prevent an all-American showpiece in New York.
It will be sixth seed Gauff's second attempt to win a Grand Slam singles final after finishing runner-up to Poland's Iga Swiatek at the 2022 French Open.
Gauff raised her fist after clinching the win, signalling her defiance and fight, as the home crowd erupted on an exultant Arthur Ashe Stadium.
After letting out another roar of celebration, she made a heart sign to the fans as a thank you for helping her get over the line.
Ultimately, the way Gauff finally secured victory was testament to her own resolve and a mental fortitude which she says has developed over a successful North American hard-court season.
"Some of those points it was so loud, I don't know if my ears will be OK. Please be louder – this is crazy," Gauff told the crowd in her on-court interview.
"I grew up watching this tournament, it feels so special. But the job is not done."
Gauff within touching distance of destiny
Ever since Gauff burst on to the scene as a 15-year-old phenomenon in 2019, she has been heralded as a future major champion.
Now she has earned another opportunity to reach the pinnacle of her sport while still a teenager after a gutsy win over Muchova at Flushing Meadows.
Gauff, who turned 19 in March, is the youngest American woman to reach her home Grand Slam final since Serena Williams in 1999.
It comes after she has enjoyed the best period of her career on the North American hard-court swing.
Winning her biggest singles titles in Washington and Cincinnati was the perfect preparation for the US Open and she has continued to thrive in front of expectant home crowds in New York.
Gauff made a fast start against a tight-looking Muchova, who was aiming to reach her second major singles final after also being beaten by Swiatek at the French Open this year.
A slew of mistakes from Muchova contributed heavily to a 5-1 deficit and once she settled – which enabled her to pose questions of Gauff's forehand – fought back to 5-4.
However, a poor service game from the Czech gifted the opening set to Gauff – and the drama of the protest came shortly afterwards.
The players were taken off court after the first game of the second set because one of the protesters, who were wearing Extinction Rebellion T-shirts, glued themselves to the floor.
"I just treated it like a rain delay," Gauff told reporters.
"The only thing which was harder was that we had to leave the court and didn't know if it would be five minutes or an hour."
After the protesters were finally removed by police, the players resumed the match nearly 50 minutes after the previous point.
The pair continued to hold serve in the second set until what had slowly developed into a gripping contest suddenly burst further into life.
Gauff broke for 5-4 but, like in the first set, could not serve out and needed to show all of her will to get over the line.
Sabalenka unsure how she 'came through' stressful semi-final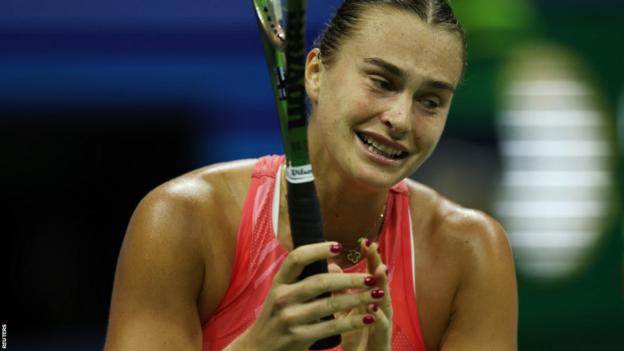 Aryna Sabalenka fought back from a break down in the second and third sets against Keys.