It was a Europa League final that will not live long in the memory – well not for the quality on the pitch anyway.
Sevilla lifted the trophy for a record-extending seventh time as they beat Jose Mourinho's Roma on penalties after a drab 1-1 draw in Budapest.
One perfect record had to fall with Mourinho having previously won all five of the European finals he had been in, and he was left throwing his losers medal to a child in the crowd as Sevilla celebrated.
"That's what I did, I don't want silver medals. I don't keep silver medals, so I gave it away," Mourinho said.
"I want to stay at Roma but my players deserve more, I deserve more. I don't want to fight anymore for that. I'm tired of being a coach, a communicator, the club's spokesperson."
However, by the end, it was the behaviour of both teams and coaching staff that most people were talking about, with 13 yellows cards awarded, plus one for Mourinho.
The end to Mourinho's perfect record – but what next?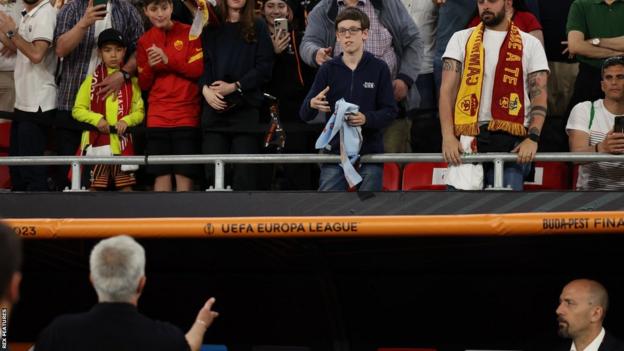 Mourinho was bidding for a record sixth victory in a major European final that would have seen him eclipse legendary Italian coach Giovanni Trapattoni, who has won five major European trophies.
But after reaching back-to-back European finals his reputation appears to have been restored after damaging departures from both Manchester United and Tottenham.
The 60-year-old declined to comment on his future pre match but has been heavily linked with a move away from Rome this summer to a club that would likely hand him a considerably larger transfer budget than he has worked to in the Italian capital.
Despite having a contract until 2024, there is the thought he will move on in pursuit of a club who he could guide to a third Champions League success, with Paris St-Germain heavily rumoured to be interested,
Mourinho said: "My future? I am serious, I said a few months ago that if I had contact with any other club I would tell the owners, I would not do anything in secret.
"I spoke to the club in December when Portugal asked me, so far I haven't spoken to anyone because there is no team I have spoken to.
"I've won five finals and I lost this one, but I'm coming back home proud again. The boys gave everything. We are all attached to the shirt, to our nature.
"We take things seriously and humbly, we work a lot. Everyone reacts in a different way: one cries, the other doesn't. The truth is that we are all very sad, with or without crying. Great match, great final – intense, vibrant."
Jose Luis Mendilibar was only appointed Sevilla boss in mid March.